Optimizing system communication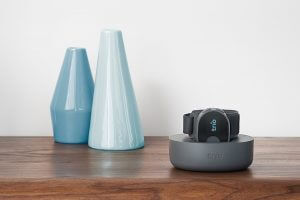 This is a stand-alone device that is not app-driven and does not require a smartphone. The Cala Trio device and charging station utilize BLE and custom LTE and NFC antennas to ensure seamless system communication and data management without requiring any work from the user to connect or input data.
Improving User Interface
The nature of essential tremor means that it is difficult for users to operate small buttons and carry out intricate actions that are usually associated with most wearables. KD provided detailed engineering and development on a number of product features including the following: 
button size, placement and sensitivity

stimulation device attach/detach to the wrist band

wrist band donning, tightening and loosening
All required many design and prototype iterations for user testing before finalizing a design that satisfies all challenges creating an intuitive solution.
Integrating soft goods and electronics
Embedded in the microfiber wristband is a flexible PCB with overmolded conductive silicon electrodes. Comfort and ease of use while delivering reliable therapy are critical to the user experience.