Not many people know that China has a robust legal system protecting intellectual property. Some overseas companies like Supreme have suffered major losses because they have not made use of the IP protection measures early enough. While Supreme's story is representative of other global brands, it is equally as important for small and medium companies to properly protect their intellectual property in China.
Whether you are looking to expand to China, or interested in developing your supply chain into this region, this article will help you understand how to protect your product design and brand equity. 
Can suppliers take advantage of my design?
Most companies that are just starting out are pretty much safe from the issue of having their design stolen by a China supplier. This is because a bad supplier will most likely be inclined to replicate a proven design that is already being sold to the mass market. While you may consider registering a trademark or applying for a patent, here are some non-legal steps every company should take to minimise the chance of having their Intellectual Property rights violated.
Make sure you always have

signed contracts

that specify your ownership of any tooling, with images of product prototype or sample included 
Protect your IP in your home market – this can help you in case you have to pursue legal action against retailers that sell the fake product made by your supplier
Use non-industry specific supplier – a manufacturer that specialises in certain industry is more likely to share product knowledge among clients
Choose factories that don't work with your competitors 
Intellectual property – protect your product design
According to the World Intellectual Property Organization, intellectual property is any creation of the mind, such as inventions, literary and artistic works, designs, symbols, names and images, used for commercial purposes.
Patents
Relevant office: CNIPA (National Intellectual Property Administration)
There are two types of patents in the CNIPA system: utility models/designs and inventions. The application process varies depending on the patent type. Here is a comparison of the patent registration requirements and timeline: 
| | | | | |
| --- | --- | --- | --- | --- |
|   | Cost | Timeline | Validity  | Examination |
| Utility models | 71 USD | One year | 10 years | Preliminary |
| Inventions | 128 USD | Three to five years | 20 years | Preliminary (for up to 18 months) and substantive (on request) |
Due to the length of the process, you should ensure that your patents are translated properly before filing, as any amendments will result in considerably longer waiting time. You can file your patent either directly with the (SIPO) or with the power of international law, for example using the Patent Cooperation Treaty.
Copyrights
Relevant office: PRC National Copyright of Administration (CNAC); Copyright Protection Centre of China (CPCC)
PRC's copyright law ensures protection of an author's literary, artistic and scientific work copyrights – this means that the law automatically protects your copyright in China. However, it is useful to apply for additional copyright protection to be able to resolve any disputes quicker and possibly receive a tax deduction if your copyrights were infringed. 
If you would like to register your copyright for computer software, you should do so with the CPCC (Copyright Protection Centre of China). For any other products, you can apply via the CNAC.
Selection of business partners
While registering patents and copyrights will protect your product design and make it easier to resolve any disputes if an issue arises, there are also additional steps you should take from the business relationships' point of view in order to minimise the chance of any exploitation of your intellectual property.
Include IP protection clauses in all contracts.
Perform thorough due diligence on a regular basis for every partner throughout the supply chain – this is a good practice for any business, but especially when operating or manufacturing in China.
Manage supplier and manufacturer relationships through multiple persons in charge to limit any opportunities for abusing your business networks. Especially if you are just starting out, it is best to leave your

China supplier relationship management

to someone trustworthy and experienced.
Trademarks – protect your brand
When registering your brand name, it's important to check whether someone else has already registered a mark identical or similar to yours in China. China Trademark Register is a database of over 30 million registered trademarks, growing by 5 million annually, so it's a good place to start your research.
How to search China Trademark Register database
In order to browse the trademarks using the free tool available on the China Trademark Office website, you will need to set up a free account first – the process is easy and takes less than 20 seconds. Let's go back to our example and search how many trademarks are registered as 'supreme'.

Here are some definitions that will help you navigate the search tool:
Classes: There are 45 trademark classes in the Chinese system and the link on the right of the class text box will take you to a list of classes with examples of products. Class 25 includes all clothing, footwear and headgear. 

Register number: Each filing has its unique number that you can use to look up a mark you already know exists in the database

Subclasses: The 45 classes are further divided in the Chinese Trademark Register, and in order to find all the relevant marks it is better not to specify it during your search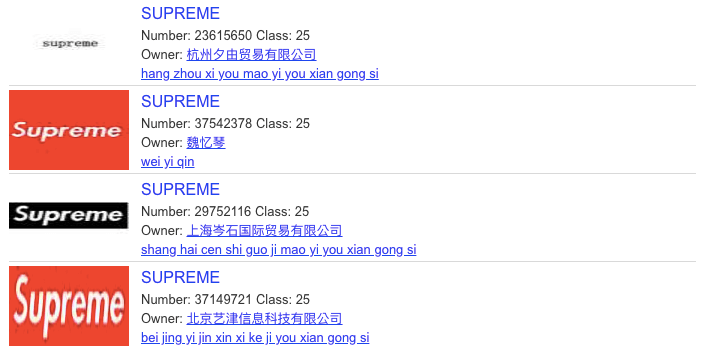 There are multiple trademarks all registered as 'supreme' with similar logos and under the same class. Unfortunately, bad faith filings of identical or similar brand names by local Chinese companies are not uncommon. As such, it is important to search for names with minimal iterations. The example below shows there are marks already registered by companies as 'Supreme' AND 'Superme'.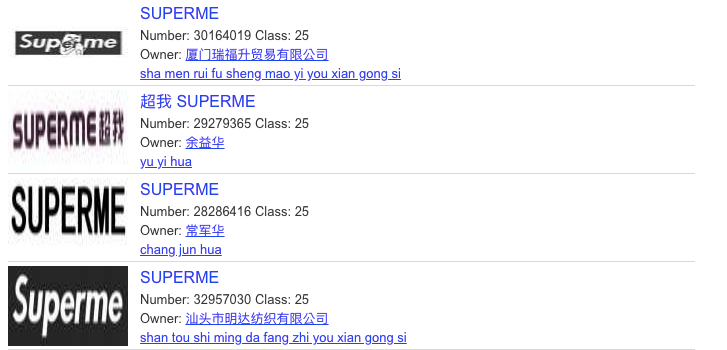 If after performing a similar search for all marks including your brand name (or parts of it) you have not found any concerning filings, the good news is that you are most likely all set for starting your China trademark application process. However, it is important to point out that the search tool has its limitations: there is a 3–6 month delay between registering a trademark and the record being added into the database. 
How to register your trademark in China
Relevant office: CTPO (China Trademark Office)
Applications using the online trademark registration platform start at 499 USD for one mark under one category, and the whole process is finalised within 6 months from the date of application. 
However, trademark applications usually consist of multiple classes and multiple names, in order to better protect the mark. On average, a realistic timeline for the China trademark registration procedure is about 14 to 18 months. After a successful application review, the CTPO will publish an announcement about the mark being registered and any party can file an opposition for the trademark within 3 months of the publication date. Provided there is no opposition to your mark registration, you will receive a trademark certificate issued by the CTPO after this.  
Your trademark will be valid for 10 years from the date of registration, and an application for renewal should be submitted within 12 months before the expiry date.
Final Words
Protecting your intellectual property in China is extremely important due to many bad faith filings or 'trademark collectors'. If you are looking to expand your business to China or work with Chinese manufacturers, you should start your trademark and patent application as soon as possible. While this will help you resolve any disputes in court effectively, there are also additional steps you can take when it comes to managing your supply chain that can prevent intellectual property theft attempts. To learn more about how to manage your China supply chain, email us or fill in our contact form.

---
Looking for a product development partner for your next innovative product?
Reach out to one of our consultants today.