In order to succeed as a start-up, you need to think long term about the viability of your product. Listening to your customers and making sure you understand their needs brings you closer to success. 
Bringing an idea to life with a proof of concept is different from just documenting it – it will allow you to see potential challenges and opportunities you wouldn't see otherwise. Whether you're a seasoned product developer or just starting out, here is what you need to know to create a successful proof of concept and lower your product development risk.


Proof of Concept (POC) Definition
Proof of concept is a short exercise that, in essence, is intended to help you assess the viability of your end product. The outcome of the exercise is a product that you can produce by yourself without consideration for customisation, size, and aesthetics. The challenge here is to build something that performs almost all functions as the end product, with only the readily available resources, in the shortest possible amount of time.
By the end of the POC process, you will have answered the following questions:
Is this a valuable product and will my customers like it?
How will people interact with the product?
Is the technology I'm using applicable to the problem I'm trying to solve?


Why do you need a POC?
When you're unsure about the feasibility and successfulness of your idea, there's no need to take the unnecessary risk. This is where a proof of concept comes into place. Ultimately, the purpose of POC is to see whether the idea/concept is workable or not.
Among many benefits, POC can help you achieve the following:
Prove that your technology is feasible and applicable

Identify user interface issues that you may encounter

Increase chances of NPI (new product introduction) success
Make a decision whether or not it's worth investing resources in building a prototype


What is the difference between a proof of concept and a prototype?
A proof of concept is there to solidify a full picture of your product and make sure it is viable and feasible. Usually, you will do multiple exercises for one product, depending on the successfulness of each POC round.
From our experience, creating a proof of concept usually takes a 3–4-week sprint; however, it can take up to 12 months to move your idea from POC to prototype. If you'd like to learn more about prototyping and how to move beyond that stage, we've written a blog about it before.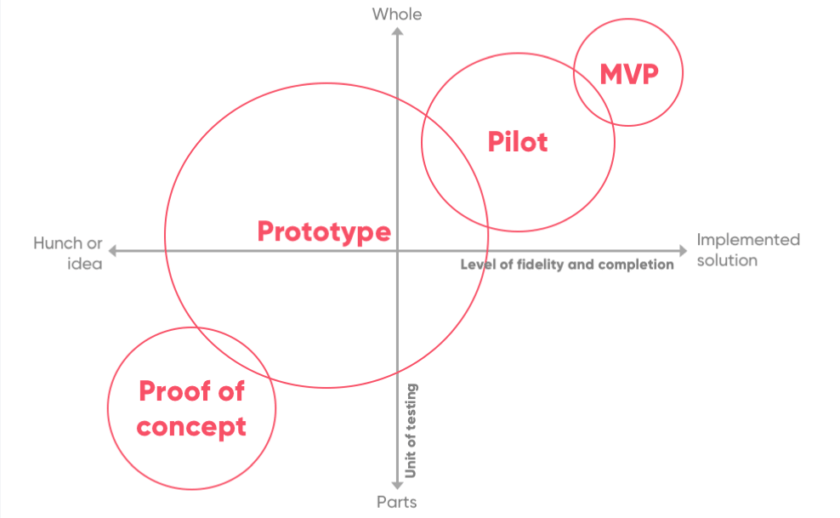 While it takes weeks to perform a proof of concept exercise, it will take months to build a prototype, and possibly years until you make a pilot product. But it is not only the duration of each step that varies. It is also about what resources you will use, and the similarity between the intermediate result of each step and the end product.
If you are working on a solely mechanical product, there's a good chance that you may be able to use household materials to create an initial POC. If you are working on a more complex electromechanical product, you may want to utilise a computing platform such as Raspberry Pi for better accuracy.
Our 7 Steps to Building a Strong Proof of Concept

Step 1: Clarify What is the Problem You Want to Solve
Make sure you understand the problem you are solving 

Make a preliminary decision about which technology is best to solve it
Step 2: Create a Scenario for Using Your Product
Draft a hypothetical user interaction journey 

Pen and paper work best here!
Step 3: Define What You Want to Test
Based on the scenario, define potential errors that can occur

Establish KPIs for your product performance
Step 4: Make a Mockup
Identify the easily-available resources you can use for creating a POC

Avoid any customisation 
Step 5: Perform a Series of Tests with Potential Customers
Validate your product by asking potential customers to interact with the mockup

Test based on the viability and feasibility of your product
Step #6: Evaluate the Results of Your POC Test
Here, you need to go back to the basic questions:

#1: Is this a valuable product and will my customers like it?

#2: How will people interact with the product?

#3: Is the technology I'm using applicable to the problem I'm trying to solve?
Step 7: Move Forward with Developing Your Product (or Repeat)
If you have a satisfactory answer to the above questions, then you are on the right path to developing a successful product – congratulations!

If you're still unsure about the feasibility of your product, it is good to go back and reiterate – until your POC makes sense to you and your customers.


Final words
Developing a prototype and a pilot product is expensive in most cases. This is why a proof of concept is extremely useful for start-ups, especially if you're strapped for cash and not in a rush to start manufacturing. A proof of concept can also be a solid base for investor pitches – if you can show how the POC test results are closely connected to end-product performance. 
Collaborating with a product development partner on your project can also substantially lower your risks as many of the feasibility and viability concerns will be addressed by an experienced team of engineers working closely with you and your suppliers. 



---
Looking for a product development partner for your next innovative product?
Reach out to one of our consultants today.